Screen Shot Of Our Yelp Page on October 23, 2013
This is the Yelp page for B&D Appliance Service on October 23, 2013. As you can see we had 4 very positive reviews showing and 13 very positive reviews hidden or as yelp likes to call it "Filtered". That means 2 new reviews came in for us since Oct. 16, 2013. One was a
5 star review
from
Dennis W. in Santa Clarita, CA
. I helped Dennis solve his dryer problem over the phone for free and he was so happy about it that he said he was going to write us a review. His review was on our Yelp page for 1 day. The 2nd new review from "Heidi B.", as you can see below, was on our Yelp listing Oct. 22, & 23rd but has now joined our friends in the "
Filtered Jail
" hidden way down in the
Yelp Dungeon
. If you noticed, they put the review "
Natalie R
." wrote us back on for a couple days but then took her review back off again. All of these sudden changes started shortly after Yelp Account Executive Mike Ramsey tried contacting us for advertising.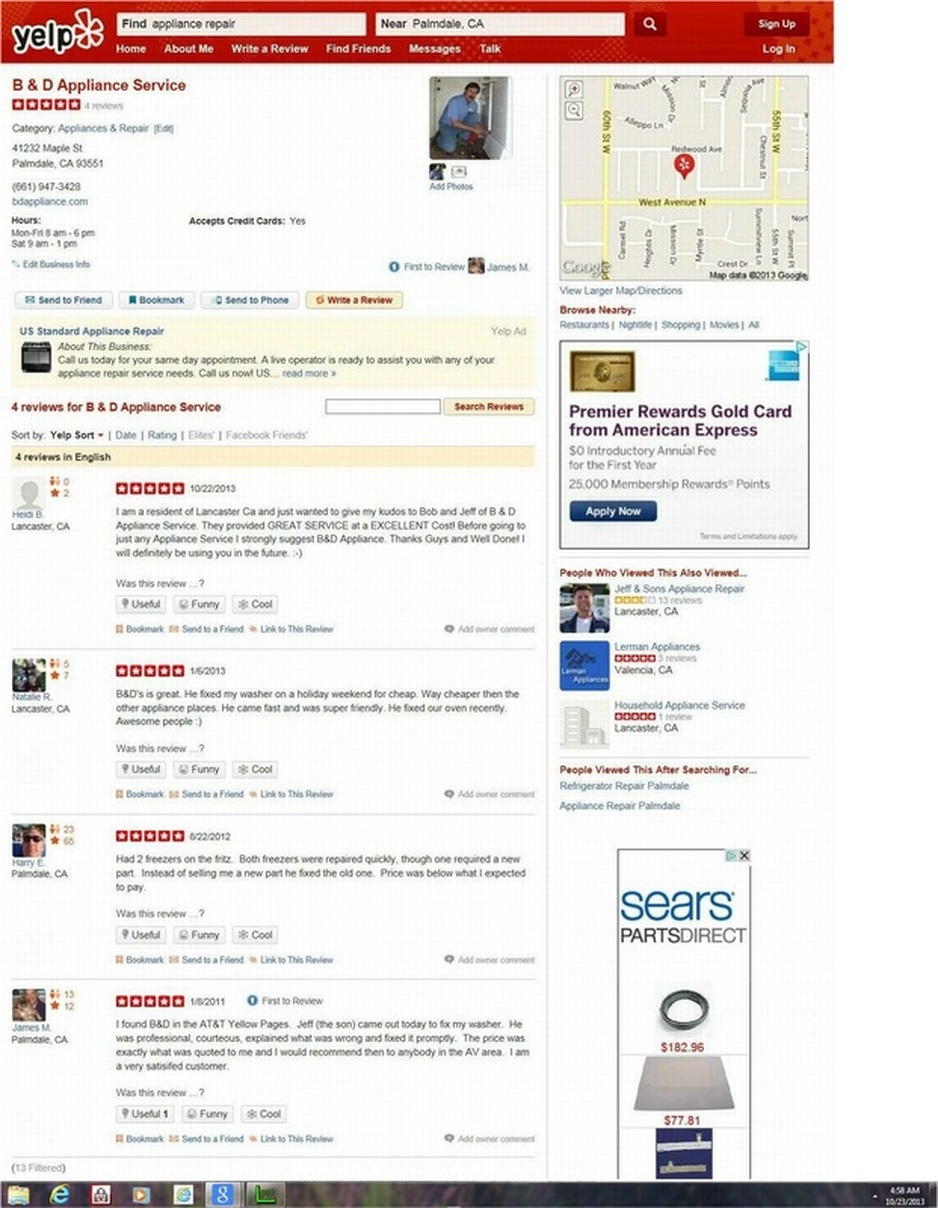 James M.'s Review above has been on our Yelp page since he wrote it on 1/08/2011. That's over 2 years & 9 months. On 10/26/2013 James disappeared from my page. As you can see, he has written plenty of reviews so why has he been taken off my page now? All of a sudden (after I didn't return the advertising salesman's call) it's considered a fake review??? It is Crystal Clear what is going on here! How do you guys at Yelp sleep at night???
---
Screen Shot Of Our Yelp Page Reviews on October 26, 2013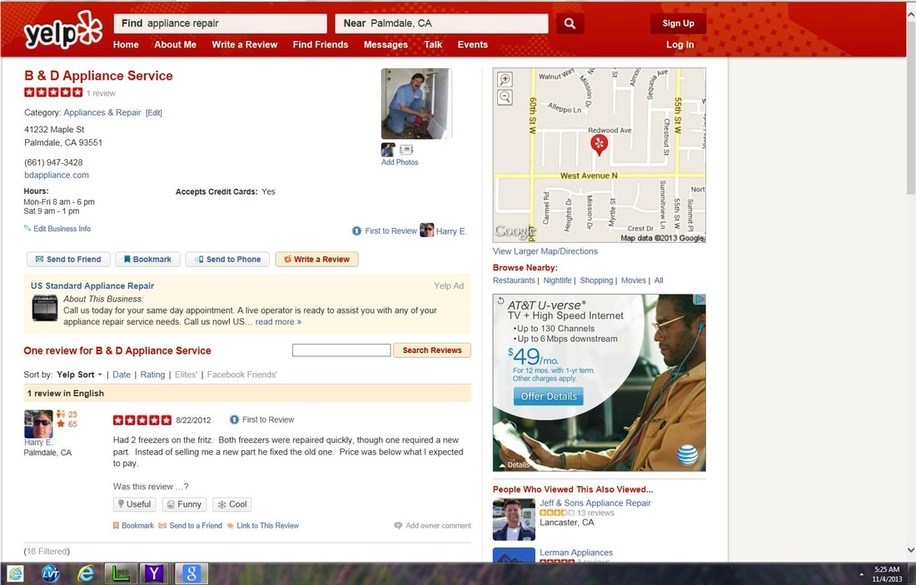 This Screen Shot was updated 11/4/2013 - Our Yelp Listing has stayed the same since 10/26/2013 - 1 Positive Review Showing & 16 Positive Reviews Hidden(Filtered) - No Negative Reviews - All 17 reviews are from Real Customers but Yelp doesn't want you to see them. How can you trust a Review Site that won't let you see ALL the Reviews!
---
| | | |
| --- | --- | --- |
| | Or You Can Click On This Link below: | |
---
A Message to Mike Ramsey at Yelp
As of today, October 26, 2013, we have 1 very positive review left showing and 16 very positive reviews hidden (Filtered). No Negative Reviews.
Mike, I didn't return your calls or e-mail so I guess this is how you're punishing my business so far. Should I have called you back & agreed to pay the $299.00 monthly advertising fee? I didn't say extortion money like some called it in the posts I read. I'm trying to be as nice as possible about this Mike but this is very upsetting to me as well as many other small business owners your company is hurting by hiding their real positive reviews and allowing negative or fake negative reviews to stay. If you are a man with morals & ethics, you understand that if I pay a company that appears to me to be dishonest, I'm not standing up for what I believe in. I cannot help support a company that I believe is cheating people and hiding information.
I was the top appliance repair technician in our area for one of the largest home warranty companies in the U.S. They used to be an honest company and I was happy to represent them but then things changed. Money became much more important than honesty & customer service. They didn't want qualified technicians that did the right thing; they wanted someone who would falsely deny the claim. Once I realized what they were doing, I quit them. Even though it took money off my family's table, I couldn't tell a customer that it was their fault the appliance broke down and that it voided the warranty when it wasn't really their fault. I wasn't raised that way. I'm only telling you that because I want you to know that I'm a man with principles. When I was a kid, I wouldn't give the BULLY my lunch money. He could hit me and knock me down but I refused to give him my lunch money. He may have been much BIGGER & STRONGER than I was, and he could have killed me if he wanted to but I still stood up to him. How's this any different?
The
stories
are growing about how dishonest your company is and it's just a matter of time until everyone knows the truth. Every small business owner hurt by your company needs to join in and get the word out. E-mail everyone they know. Post it everywhere they can. Start more
blogs
about this. Get the media more involved. Once everyone knows they can't trust the information on your site,
the Bully will fall...
You would think that after your company got lucky when the
class action lawsuit
was dismissed, that maybe you guys would start doing the right thing and build your business honestly. It's like when you find out you have cancer & you're faced with death but you make it through and you realize how close you came to the end. It's a wake up call that maybe you should make some changes in what you're doing. I know what that feels like because I was diagnosed with stage 4 cancer in January 2011 but by the grace of God, I'm still here today and "YES" I made some changes.
Here's some changes I would recommend to you Mike. You should just announce to the world that you're trashing your algorithm filtering system (
which I believe is nothing more than Yelp Executive's telling Yelp web guys to remove a review whenever they feel like it
) and allowing all reviews to go up. If a person joins Yelp and they only want to write 1 review, let them and let their words be seen by all. It shouldn't matter if they write 1 or 20. You've been letting bad reviews stay up even though it was the only review written by that person, so now do that with good reviews too. Then, have a dedicated phone line and e-mail for review complaints. If someone feels they have a false review on their listing, take the time to check it out and make sure it's real. If you can't verify it's a real review from a real customer, then trash it. If you don't know how to do this, call Angie Hicks at Angie's List and I'm sure she would be glad to explain it to you. She is very nice and cares about small businesses. Don't allow anyone in your organization to write fake reviews. Make sure they all know you're not going to bully small businesses anymore. Set the example. Do the right thing and I'll be your biggest fan. I'll take down all this stuff about how your company used to be and I'll write a story about how Yelp no longer filters reviews and has now become an honest company. I haven't done the SEO work on these 2 pages yet because I wanted to see how you handle this and what else you're going to do to my Yelp listing. If Jeremy Stoppelman has you fired for trying to do the right thing, you can go work for an honest company but hopefully he promotes you for having such a GREAT idea. You don't have to tell him you got the idea from me. I'm OK with you taking all the credit. I promise you that you can be successful by doing the right thing and being honest. Then, you won't be afraid to post a picture of yourself on your
LinkedIn Account
. Honest people have no problem posting their picture on their LinkedIn Account or anywhere else on the internet because they've got nothing to hide.
(It's strange but I couldn't find 1 picture of you anywhere)
. However, I did find a Mike Ramsey who's picture
IS
all over the internet. He's the president of
Nifty Marketing
and you can tell he is a good guy but I'm sure this Mike Ramsey isn't you because he created a "Comigraphic" titled "
Why Small Businesses Hate Yelp
".
Have you seen it?
-
Bob Meadows
/Small Business Owner
B&D Appliance Service
41232 Maple St.
Palmdale, CA 93551
(661) 947-3428

Bob Meadows
P.S. Mike, I know that your next move may be to write 1 or more fake negative reviews on my listing and make me look real bad and I'm expecting that but why not go a different way this time? You can easily see what kind of business I run and a negative review would be WAY out of the norm. You can go ahead & hurt me if you want but wouldn't it be better if Yelp was known as an Honest Company that cared about the "Small Business Owners" and that the "FREE LISTING" you offer is REALLY "FREE" with no strings attached. Of course people can advertise with you but they shouldn't be forced into it. Think about it before you have your guys write that negative review. It shouldn't always be about "MONEY" Mike. If it weren't for "GREED", our country would be in GREAT shape! By the way, that Bully I talked about when I was a kid, ended up being my friend later on and was sorry he ever acted that way.
---
---