Palmdale PitStop & CITY SMOG in Palmdale, California
Palmdale PitStop and CITY SMOG located in Palmdale, California, Antelope Valley, for vehicle oil change service & maintenance and Test Only Smog Check Center.
---
Automotive Oil Change Service Antelope Valley, CA
Palmdale PitStop in Palmdale, California
(661)273-7672

Palmdale PitStop, located in Palmdale, California in the Mojave Desert, is a great choice for vehicle oil change service & maintenance. An automotive fast lube & oil service for the Antelope Valley, CA. Besides oil change & oil filter replacement for cars, trucks & all automobiles, Palmdale PitStop also offers lube, windshield wiper replacement, radiator fluid, transmission fluid, rear end oil, belt replacement and other maintenance for your vehicle. Palmdale PitStop is a locally owned small business here in the Antelope Valley, CA and a service business I highly recommend! Supporting local small businesses is very important to me. I'd rather help out the local business man rather than help the big companies get richer. Keeping our money here in the Antelope Valley is very important for our local economy and growth. Besides, you can't beat the customer service you will receive at Palmdale PitStop and that's because the service technician attending to your car or truck is the owner! When the owner of a business is the one doing the service, you can trust that more care & concern goes into the quality of the work as compared to an employee of a large chain. I've been very happy with the service and Palmdale PitStop is one of my favorite small businesses here in The Antelope Valley, CA.
-Bob Meadows / B&D Appliance Repair Service


Meet The Owner Of Palmdale PitStop - Palmdale, CA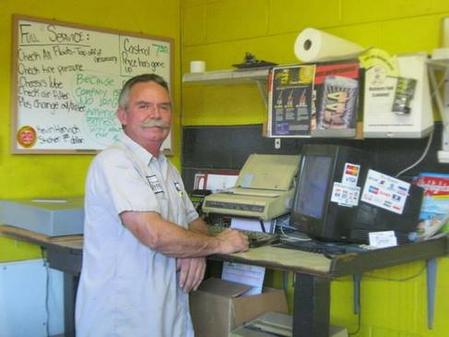 Rob Carson - Owner of Palmdale PitStop - Antelope Valley Small Business Owner

Rob Carson purchased Palmdale PitStop and became the new owner on October 1st, 2006 and has been serving customers ever since. Rob is an antelope valley resident who believes in supporting local small businesses and is very active in the community. Rob has been a sponsor for events & organizations like High Desert Pageant, High Desert Cruisers, Veterans Of Foreign Wars (post 3552), and Antelope Valley React (an emergency C.B. radio response team). Rob loves classic cars and it's not unusual to see one being serviced at Palmdale PitStop. Classic car owners know they can trust Rob to take care of their prize possession. When you bring your vehicle in for oil & filter change service at Palmdale PitStop, you'll know that Rob has your best interests in mind. He'll let you know if he notices anything like under-inflated tires, worn belts, coolant leaks, fluid leaks or anything else you should be aware of. Rob is an honest man and would never try to sell you something you don't need. He'll let you know if he feels something needs attention and then let you decide. You'll never feel pressured and you'll know that Rob was just looking out for you. It's not always easy finding honest small business owners. When I do, I tell everyone about them. That's why I'm telling you about Rob Carson and Palmdale PitStop, here in the Antelope Valley, CA.
---
---
---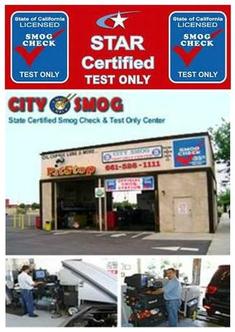 Smog Test Antelope Valley, CA
CITY SMOG in Palmdale, California
(661)526-1111

Located in the same building as Palmdale PitStop is CITY SMOG, also in Palmdale, CA in the Mojave Desert. CITY SMOG is an official Smog Station - Star Certified-Test Only Center. Emissions inspections are their business. They conduct an accurate, honest, and fast inspection. If your vehicle passes the smog check, CITY SMOG will gladly issue you the pass smog certificate. If not, they will explain and guide you through the right and easy way to fix your vehicle. CITY SMOG will also provide you with a consumer assistance program to help you fix your vehicle up to $500. Diesel smog checks - DMV Renewal smog test - Gross polluter certification - Out of state smog checks - Regular smog Inspection - Test only smog Inspection.

CITY SMOG is ranked as one of Palmdale's most reputable and trusted smog test only stations. CITY SMOG continues to provide California vehicle owners with excellent and speedy service. If you are in need of a test only-smog check center in the Antelope Valley, I highly recommend "CITY SMOG" located at 10th Street East & Palmdale Blvd. in Palmdale, CA. 93550.
And Tell Edward that Bob sent you!!
-Bob Meadows / B&D Appliance Repair Service


Meet The Owner of CITY SMOG - Palmdale, CA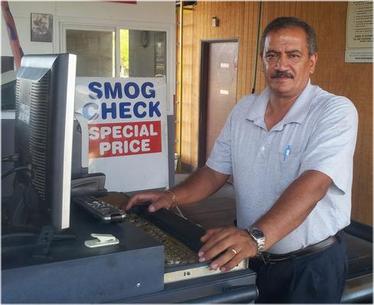 Edward Iskandar - Owner of CITY SMOG - Antelope Valley Small Business Owner

Edward Iskandar is the owner & technician of CITY SMOG Test Only Center here in Palmdale, CA. As an aircraft maintenance engineer and Automotive ASE Certified technician, Edward has combined experience of over 30 years. (more info about Edward coming soon)


---
Print Out CITY SMOG Coupon and Bring In For Savings!! Just Right-Click on Coupon and click on "Print Target" and you'll have your coupon. (unless you don't have a printer) LOL
---